Mixed Vegetables Wrapped in Egg
   The egg menu is not fat. This recipe looks the best. Mixed Vegetables Wrapped in Egg is easy menu. The fried eggs until cooked and wrap the salad greens, melons and carrots nicely. Finally dip it with chili sauce.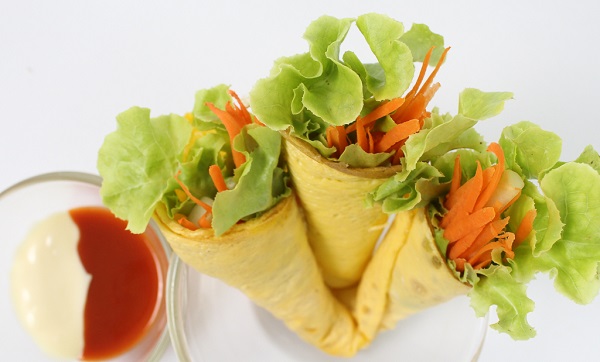 Ingredients.
2 eggs
30 ml of clean water
1/4 teaspoon salt
3-5 leaves of green oak
1/2 grated carrot
Cucumber, sliced ​​3-5 pieces
1 tbsp Sriracha chili sauce
1 tablespoon mayonnaise
1/4 teaspoon olive oil (for brushing the pan)

equipment
1 strainer
1 rectangular pan
Toothpick (for removing eggs from pan)

How to make mixed vegetables wrapped in eggs
     1. Make egg sheets for wrapping. by cracking an egg into a cup fill with clean water Season with salt, stir well, filter 1 time.
     2. Heat the pan, add olive oil. Use a paper towel to wipe off enough oil. hand in pan (It's hot steam, it's ready to use.) Pour in 30 ml of eggs (with equal measure). Cover the eggs according to the shape of the pan until cooked. Observe the ripeness as the clear orange egg turns into an opaque yellow egg. Let it cool down and then wrap it with mixed vegetables.

     3. Place one egg sheet on the cutting board. Place the green acorns at the bottom. Topped with melons and grated carrots. Roll it straight until it covers the filling first. Then slowly roll obliquely 45 degrees, looks like a cone, do the same for 2 more sheets. A
word of caution: this egg sheet is not very thick, roll it slowly, don't press hard, otherwise the egg sheet may break.
     4. Wash your hands and prepare them in a bowl, dip them in chili sauce or mayonnaise. Or you can mix both. Can share with friends. Any girl who is afraid of getting fat. Dip only the chilli sauce.